For those who know the answer, this question seem trivial…but that's not the case for everyone and that's why I am writing this post.
Actually, once when I was a young engineer without knowledge of sales or marketing, I didn't know the difference myself. When I discovered there was a HUGE difference between benefits and features, I started to stop to use these 2 words interchangeably and I started to pay attention on what I was really saying to prospects and clients.
I hope this will enlighten you as well!
The difference between benefits and features
Have you ever been looking at the spec sheet of a product that was way too complex for you?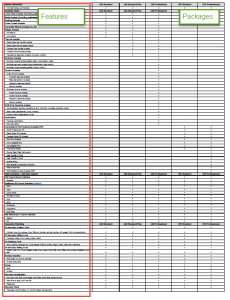 Or maybe not complex, but simply "difficult to understand"?
Let's take the example of the DLSR Camera EOS 1D X and suppose that you are not a photographer…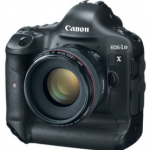 Here's what you can read on the product description:
Newly designed 18.1 Megapixel full-frame CMOS sensor, 14-bit A/D conversion, wide range ISO setting 100-51,200 (L:50, H1: 102400, H2: 204800) for shooting from bright to dim light and next generation Dual DIGIC 5+ Image Processors for enhanced noise reduction and blazing processing speed.New 61-Point High Density Reticular AF including 41 cross-type AF points with f/4.0 lens support including 5 dual diagonal AF points (sensitive to f/2.8) and cross-type AF support at f/8* (center point), AF point illumination during AI Servo* for easy viewing, plus EOS iTR (Intelligent Tracking and Recognition) AF for accurate subject tracking.

EOS iSA (Intelligent Subject Analysis) powered by Canon's DIGIC 4 Image Processor, featuring a 100,000-pixel RGB Metering Sensor with subject and color recognition for reliable AE.

EOS HD Video with manual exposure control and multiple frame rates (1080: 30p (29.97) /24p (23.976) / 25p, 720: 60p (59.94) / 50p, 480: 60p (59.94) / 50p) with 4GB automatic file partitioning (continuous recording time 29 minutes 59 seconds) with selectable "All i-frame" or IPB compression.

Outstanding shooting performance: up to 12.0 fps continuous shooting (14.0 fps in Super High Speed Mode) using a UDMA CF card.

Magnesium alloy body with shutter durability tested up to 400,000 cycles, exclusive dust-and-weather resistance, and new Ultrasonic Wave Motion Cleaning (UWMC) for improved vibration-based dust removal.

Intelligent Viewfinder with superimposed LCD display, approximately 100% field of view, wide viewing angle of 35 degrees, and 0.76x magnification.

3.2-inch Clear View II LCD monitor, 170 degree viewing angle, 1,040,000-dot VGA, reflection resistance with multi coating and high-transparency materials for bright and clear viewing.

Improved handling with the addition of new customizable controls, and enhanced recording options with Dual Card Slots, Gigabit-Ethernet terminal, and compatibility with optional Canon Wireless File Transmitter and GPS Receiver.
This is the exact list of "features" of the product.
Does it seem easy to understand and clear that you need this camera?
(For me yes, because I am an amateur photograph — Here's my flickr if your interested to watch my photos)
But for someone who is not an expert in photography, that's just not possible to understand what are those features… simply because you are not linking them with their benefits.
If you are a photograph, you know that the benefits to have a camera like that are:
Can shoot fast in any circumstances
Allows to shoot in very low light situations
Resist to any climatic conditions
Can shoot thousands of photos without recharging
Allow to shoot very large images
etc…
Those are the real benefits that any photograph wants to get with this camera and this is the difference between benefits and features!
In other terms, the benefit is the advantage or value you want to get and the feature is the technical thing that allows the product to provide this benefit.
Product –> Feature –> Benefit –> User
Canon EOS 1D X –> Full Frame captor –> Allows to shoot in very low light situations

Why is it important to know the difference between benefits and features?
If you are in technical sales or if you are trying simply to sell a technical product, you have to know that what is important for most of the prospects are the benefits and not the features.
Features are too complex and are not telling by themselves the benefits if you are not an expert.
In technical sales, you may meet prospects who are actually very strong on the technical, maybe even more than you…
but don't do the mistake that ALL your customers are like that!

(Ok, that's a joke…but I hope you get the point)
If you advertise in a very technical way by talking only about the features, you will only touch a very small part of your potential customers…the ones who will understand your language.
Can you imagine how much percentage of potential business is lost simply because your prospects didn't understood you can provide the exact benefits they want just because it was not explain in the proper way?
To be successful in business, you have to talk the language of your customers.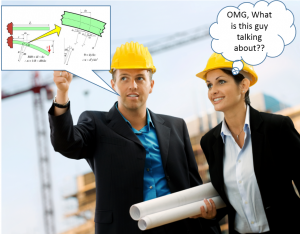 Focus on their needs to present them the right benefits first and you have a direct way to make business with them.
Show them something overly complex that is not clear for them and they will not even look at it.
Here's a short video which I like very much and will achieve to convince you about what happen between people that don't speak the same language. Very funny 🙂

Have you ever face such situation in your career? Share your experience on the blog.
I read every comment